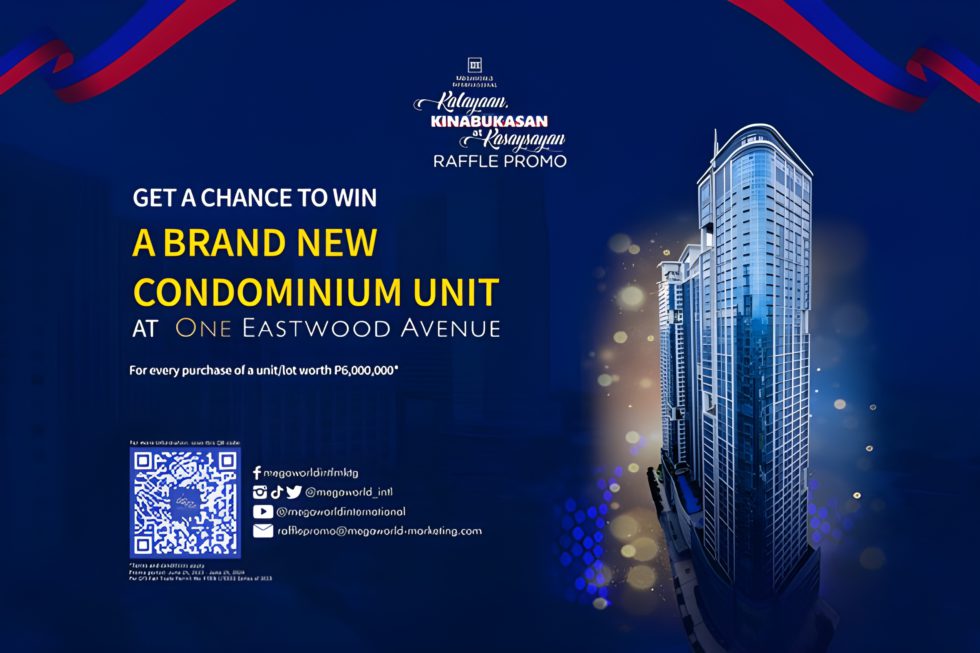 Kalayaan, Kinabukasan At Kasaysayan Raffle Promo: Unlock The Luxury Of One Eastwood Avenue
Megaworld International (MWI) is commemorating the Philippines' 125th Independence Anniversary in grand fashion. Teaming up with the National Historical Commission of the Philippines (NHCP), MWI proudly presents the Kalayaan, Kinabukasan, at Kasaysayan (KKK) raffle promo. This exciting campaign offers participants a chance to win once-in-a-lifetime prizes, including a brand new condominium unit at One Eastwood Avenue, an investment for education, and a limited-edition home furniture piece designed by the renowned Filipino artist, Ito Kish.
The KKK raffle promo aims to showcase the artistic prowess, warm hospitality, and world-class investments the Philippines has to offer to the global community. With esteemed partners such as Megaworld Corporation, Global-Estate Resorts, Inc., Suntrust Properties Inc., Emperador Inc., Megaworld Hotels and Resorts, Megaworld Club Access, Pick-A-Roo, Ito Kish, Makina Watches, and The Roots Collective, this promotion is set to be an extraordinary celebration of Philippine heritage and luxury living.
At the heart of this raffle promo lies the major prize, the One Eastwood Avenue condominium. Situated within the illustrious Eastwood City, this exquisite residence embodies the epitome of high-class living. Eastwood City, the first master-planned IT Cyberpark in Libis, Quezon City, has become an iconic township renowned for its harmonious blend of live, work, play, and learn.
One Eastwood Avenue, with its 47 and 52-storey twin towers adorned in a striking all-glass façade, offers residents direct access to a myriad of modern facilities within the township. From the Lifestyle Mall to wellness centers, retail hotspots, high-end office towers, and world-class learning institutions, One Eastwood Avenue ensures that luxury and convenience surround its privileged residents. Embracing the concept of a "city within the city," it provides a tranquil sanctuary amidst the bustling metropolis.
The story of Eastwood City itself is one of triumph and innovation. Launched by Megaworld in 1997, this 18.5-hectare mixed-use development complex became the catalyst for the growth of the Information Technology-Business Process Outsourcing (IT-BPO) industry in the Philippines. In just a decade, Eastwood City emerged as the most successful IT business park, securing the prestigious special economic zone status from the Philippine Economic Zone Authority (PEZA). This recognition attracted foreign investments and propelled Eastwood City to become a prominent Cyberpark. With notable companies like IBM, Dell, Citibank, Canon, Trend Micro, and Siemens establishing their presence, Eastwood City solidified its reputation as a hub for top employers and a major contributor to the country's economic prosperity. Today, Eastwood City continues to thrive with renowned names like Accenture, The Results Companies, Tech Mahindra, and many more, cementing its position as a driving force in the IT-BPO industry.
One of the key factors behind Eastwood City's success lies in its live-work-play concept. This innovative approach creates efficient and self-sustaining communities where residents have everything they need within reach. No longer burdened by long commutes or early morning stress, professionals can seamlessly transition between work and leisure.
Families can enjoy the convenience of world-class education and a wide array of entertainment options without compromising on quality. Eastwood City's accessibility-driven success has fostered a harmonious environment where employees are happier, healthier, and more productive, benefiting both companies and the community at large.
The outstanding accomplishments of Eastwood City have not gone unnoticed. In 2015, it was honored with the "Highly Commended Mixed-Use Development" award at the Asia Pacific Property Awards in Kuala Lumpur, Malaysia. This prestigious recognition acknowledged Eastwood City's significant contributions to the business process outsourcing industry while successfully integrating the live-work-play-learn-shop concept into a cohesive and vibrant community. Furthermore, Eastwood City holds the distinction of being an Accredited Tourism Entertainment Complex, as recognized by the Department of Tourism. This seal of approval solidifies the township's commitment to providing unparalleled quality and serves as a testament to its continuing growth and success.
The Kalayaan, Kinabukasan, at Kasaysayan (KKK) raffle promo represents more than just an opportunity to win incredible prizes—it embodies the spirit of Filipino artistry, hospitality, and forward-thinking investments. Megaworld International, in collaboration with NHCP and its esteemed partners, invites the global community to experience the luxurious lifestyle offered by One Eastwood Avenue and the vibrant township of Eastwood City. As the raffle promo unfolds, participants are invited to embrace the grandeur of Philippine heritage and the promise of a brighter future. The KKK raffle promo truly exemplifies the remarkable achievements and limitless potential that await those who engage with the dynamic and thriving Philippines.
For more information, visit: KKK Raffle Promo Website
Facebook: https://www.facebook.com/megaworldintlmktg
Instagram: https://instagram.com/megaworld_intl/